Relishing the layers of inspiration in pattern, color and texture of Istanbul's Greek, Roman, Byzantine and Ottoman past civilizations.

                                               The first of several posts about our spring Turkish Tulip Craft + Culture Trip: Sultanahmet

Living in Istanbul's Old City is a constant reminder of this city's multi faceted past. As a designer who studies anthropology, architecture, art history and the decorative arts, there are few other places on earth that offer glimpses into Greek, Roman, Byzantine and Ottoman pasts, to be seen in one or two days of frenzied tourism or savored over years of visits. Much of Istanbul is a vast sprawling ode to the modern Turkish Republican era of the last 90 years, with 'crazy' construction for the past decade and well into the future rapidly demolishing the likelihood of the city retaining neither its unique character nor its UNESCO World Heritage status. Yet the Old City – defined as the peninsula within Theodosian's Walls – in particular Sultanahmet, for now remains a living museum, with remnants of Constantinople and Byzantium at every turn.
I'm no historian. I can't begin to tell the stories of the buildings I so love here adequately enough. But I can share what I see with my visitors, those interested in the cultures that shaped these places. While my chosen pursuit is fiber arts, in particular those made with natural yarns and loops, needles and hooks, most decorative arts in their infinite variety inspire me. What speak to me most are the details, those dots to connect, the elements that link the art of these edifices.
In Istanbul's Old City, my favorite mosaics morph from depicting natural gods to abstract impressions of pious empresses, to be followed by hand-painted tiles expressing the geometry of nature and sheer joy of pattern and color.
The magic of space, creating pendentive domes that changed the history of architecture, with apertures and lanterns to illuminate our spirits, giving us a sense of awe and the divine, no matter what we believe.
The passage of time on materials like marble, with the tread of a million feet over centuries leaving their mark ever so slowly, yet blending step by step to trace a human path.
Layers of architecture within the same structure, competing, struggling to survive, yet even metal clasps of reinforcement adding to the rhythm of enduring culture.
The patina of Byzantine tesserae, those small squares of gilt, marble and semi-precious stone, often replaced by painted pattern, but still tucked away in overhead suspension. Swirling capitals with stylized flora adding a lacelike detail to the massive stone columns.
Grace under pressure resisting change, leaning yet enduring against the ever quickening outside world, trying to keep the silence within.
The repetitive form of the arch, connecting past to future, a Roman invention allowing repetitions of form in arcades and vaults. Ornamented with floral ribs and motifs floating on sharp color.
The overlap of religions, rarely peaceful as places of worship change hands, but coexisting to encompass all. Sharing the universal sense of the traditional in progression to the contemporary, yet transcending time.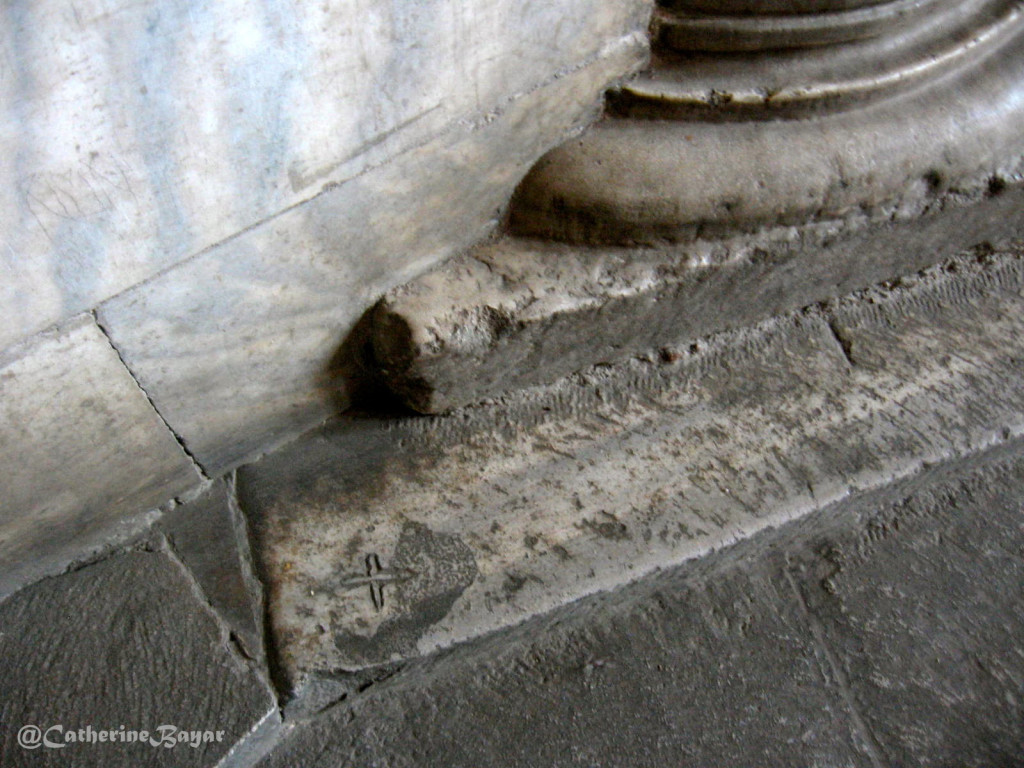 Discovering the remnants, the tiny bits left scattered by anonymous hands, rarely noticed. The conversation between formal arts and the need for individual expression.
 And always the circle, this form which connects with no beginning, no end. Joining cultures, linking elements to represent the eternal.
These layers and forms continue nearby, with structures built by successive sultans of the Ottoman Empire, leaving their mark in much the same way as the emperors before them.
The details of artistry, craftspeople who worked ceaselessly and anonymously to create intricate works of art, often taking years to finish a single piece.
The intimate interiors, offering privacy while flooded with afternoon sun, bringing hand-painted ceramic and hand-knotted gardens inside while offering the comfort of an embellished cushion and a warming brazier.
The riotous combinations of pattern and color. Here the layers transform a curved corridor wall into a physical tearsheet of detail depicting Ottoman style.
Nature depicted in her myriad geometric forms. And like nature, unconcerned with symmetry in the overall composition. The colors: deep blues and turquoises, the coral reds and rich greens, against the airy space of a white ground. An infinite variety of tulips and carnations, representing a paradise on earth.
These historic buildings may be constructed of stone and glass, decorated with mosaic and tile, but elements of whimsy and inspiration prevail.  A power ranging from playfulness to the divine, a wealth of ornamented environments that provides lessons on design, no matter the craft.
The Turkish Tulip: Fiber Arts + Culture Trip.