Shifting Sands
Istanbul is finally heating up this week. After a cold winter and a very wet spring, not just our ever-morphing weather is changing.  We've had a big shift in perspective: read about it here.
A view of the horizon is always good, even if you can't see what's coming.  As new Samatyans, we've been exploring and setting down roots. We've found a new favorite environment to enjoy Turkey's bountiful food.  We're surrounded by yet another Istanbul neighborhood steeped in the history of many cultures and civilizations.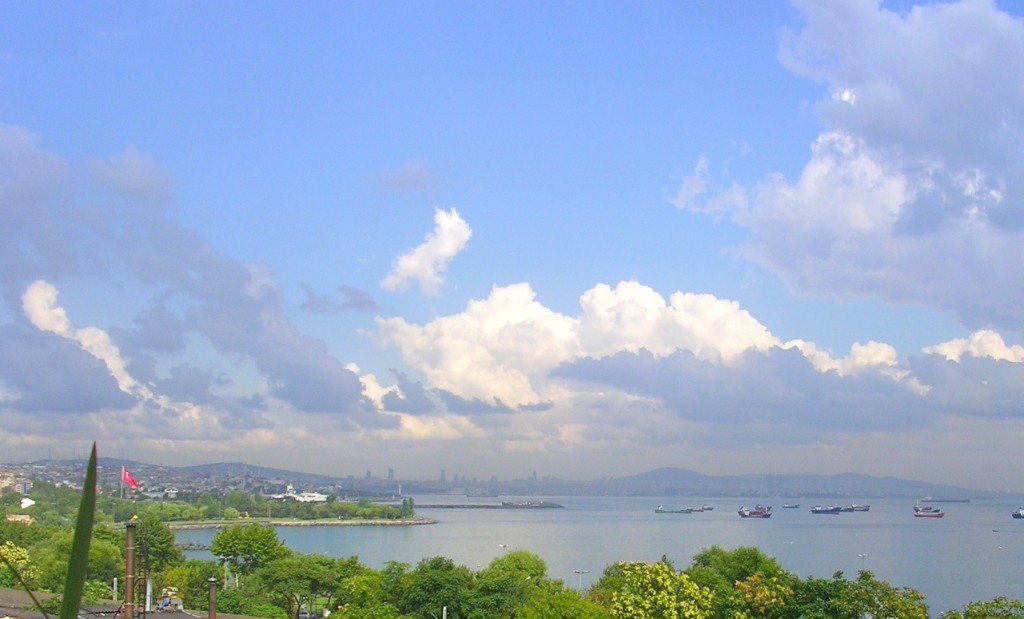 With the unexpected disruption of our move and the increasing strife unfolding in Syria, we reluctantly postponed our spring handcraft + culture trip. Reports from family and friends in the Southeast note all is fine in the places we plan to visit, so we'll try again in the fall. Though our Southeast and Aegean plans are pretty much set, we're open to ideas about our time here in Istanbul – more crafts, less historical sites? We'd also love to hear from you now what dates work best.
We're thinking October, but your opinion matters, so please drop us a line!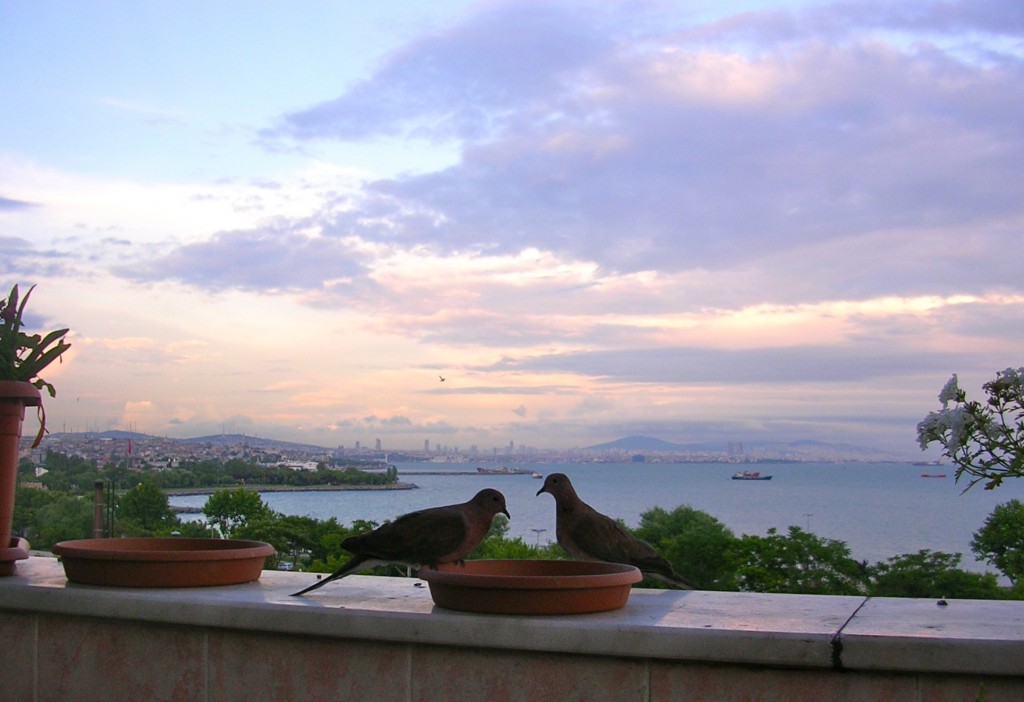 Our handcrafts are beginning to bloom, so regular posts to come. Knitters: two more patterns published in Jane Austen Knits, Summer 2012! We have a seaside terrace now for at least one workshop day during our craft trip, and a walking tour of ancient Samatya and the old city walls. We'll be in Diyarbakir next month, so watch our site for updates about our trip there. We'll also be pinning on Pinterest, a great way to share craft pics, exchange notes about our trip plans, and entice with the visual feast that is Turkey.
We hope that life is taking you in new directions too – we'd love to hear about them!
Forward: Winter 2012
It's the dawn of a New Year. Time to choose new horizons, take new chances, try new ways to get where we want to go.  Sky's the limit. No better time to get started than right now.
We're spending the winter here in inspirational Istanbul
planting seeds
for the spring: discovering skills to teach, patterns to create, materials to spin and
artisans to visit
this coming year.
With a little time out soon for travel to reconnect with family and friends, which leads us to ask: anyone in the western part of North America interested in hosting a Turkish evening of craft, conversation, food, and music in February? We'd love to see you!
We're sharpening our focus on the future
.


By learning the lessons of handcrafts past to guide us creatively forward.
A colorful crop of fiber art and the artisans who create them we'll share with you all year long.
May 2012 be the dawn of a daring, generous and invigorating experience for us all!
photo Rose Deniz
 Colors of Autumn 2011
Vintage Handwoven Rugs
from Anatolia + Moldova
We are pleased to announce our seasonal offering via One Kings Lane,
the premier home decor website for designer goods at amazing prices.
These vintage rugs from the heart of Anatolia and neighboring Moldova speak for themselves.
See what we've collected, created in village days gone by and now deserving new homes…perhaps yours or someone you know?
Please note One Kings Lane requires free sign-up to visit our event
.
Enjoy a handmade season!
photo Rose Deniz
Summer 2011 ~ Stitching Together a Community
Steamy Sultanahmet streets are keeping us inside, wishing the breezes off the Sea of Marmara will keep us cool.  Time to make way for waves of visitors crowding Istanbul Old City wonders. The heat makes summer a slightly lazy season. Just as well we rest up, since our spring was jumping with activity.It was a season of collecting colorful connections, gathering new sources for texturing our business, developing a pattern of sustainable endeavors. We unwound our online activity to make ideas tangible, to meet with folks face to face.We've been creating patchworks. Real ones, like those featured for three days this week on
One Kings Lane,
the insider source for designer décor,
in a sale ending today!
Our more virtual patchwork?
Getting to know travelers interested in Turkish handcrafts
.  Like crochet designer
Dora
and her friend Leslie, whose persistence in learning a special Turkish cast-on for toe up socks inspired me to master it myself. Or fiber artist and teacher
Meredith
, introducing me to the fabulous
Armaggan
collection, just opened as a high-end showcase for Turkish handmade apparel and home décor in an opulent building near the Grand Bazaar.Or bead entrepreneur
Andrea
, planning a bead and fiber art tour to Turkey next spring. And stranded knitwear designer
Celeste
,  committed to becoming a traditional Turkish sock-making expert, sparking even more excitement in our upcoming
2012 trip to Abit's southeastern region
, and the recent discovery there of Gobekli Tepe, where religion may have begun.
But our season's
most inspiring stitched-together community
has been the crafting ladies at
KEDV
, the Foundation of the Support of Women's Work. This grassroots non-profit organization provides work for Turkish women in their own communities, offering training and "capacity building tools". The fabulous Sule, manager of the KEDV's
Nahil
shop in Taksim, is always looking for projects these talented women can take on, so we've been designing hamam and knitwear products for them to stitch, with weaving, embroidery and other arts coming soon. Our appreciation to creative entrepreneur alchemist
Tara
for introducing us!
We'll have more exciting news in our Fall 2011 letter, when we launch our workshop space along with our custom collection of handcrafted textiles to wear, bathe and decorate with. Our take on modern Turkish style.
Til then, keep cool!
photo Rose Deniz
here
Goldfish in bowls of water signify "life within life" and the sun leaving the sign of Pisces.
Spring 2011 ~ Jumping the fire
Only three months old, 2011 has already brought dramatic change. Our planet is experiencing a paradigm shift, a cliché maybe, but accurate. Brought about by nations rising up to claim their rights through revolution and calls for reform, by the double-edged sword of Mother Nature's power, or the more subtle yet ubiquitous transformations that the Internet brings. No denying that few of us will leave this year the same as we entered it.
The Chinese have a saying (or is it a curse?) "May you live in interesting times." We certainly do. With such enormous events unfolding, we can live in fear, worrying about outcomes we have little means to affect. Or, we can embrace the unknown, learning from the past while building the future. Perhaps after huge upheaval comes a better balance, a greater chance for strong foundations.
In Indo-European cultures, this week marks Newroz, the commemoration of the Spring Equinox. Newroz means "new day", a phrase that has particular resonance this year. Celebrants jump over bonfires to mark the victory of light over darkness, recalling legends of evil snake kings and brave blacksmithswho outsmart them. Just as we must use our intelligence to overcome trying times.
The Sokullu Mehmet Pasa Mosque to our east…and that's Asia beyond the mouth of the Bosphorus on the right
The Sea of Marmara to our south
In this spirit of starting fresh, we've moved this week to a new home, with workshop space on the glass-enclosed rooftop above. With ninth-floor 180 views of the Sea of Marmara and the southernmost portion of the Old City, we're inspired in this aerie, already dubbed "The Eagle's Nest" in honor of the Bayar tale of Abit's grandfather being carried away by eagles. (But not to worry – they brought him back unharmed). We'll work here, opening a small retail space later this season in Sirkeci, a bustling area between the Topkapi Palace and the busy Eminonu harbor.
More stories will take wing this season beyond our rooftop, as we plan a trip to Mardin in the Turkish southeast, the site of that family tale, this May. Check our new website (yes, everything is evolving this spring!) for details.  And look for a special newsletter soon about our workshops to start in April.
May our "interesting times" prove productive, and ultimately peaceful, for us all.
photo Rose Deniz
here
Winter 2010 ~ A season for rejuvenation
A lunar eclipse coinciding with the winter solstice this year may seem random, but we see it as a harbinger of a particularly powerful New Year on its way. In preparation, as we say goodbye to 2010 and look forward to the start of a fresh decade, our buzzword this winter is rejuvenation.Defined as the act of becoming "more vigorous, dynamic, and effective", we embrace the challenge of a creative rebirth for our business, and our lives.Since we love what we do – and because how we live and how we earn our living is so interwoven – our process of revitalization touches all aspects of defining who Abit and I are. Our annual reinvention is tuned to this season of reflection, a slower time in which to reassess. The absence of sun and warmth turns our focus inward, to nourishing our inner light and heat.This season, our renewal is not passive, but an active appraisal of our journey ahead. What treasures shall we hunt for? What ancient places of timeless knowledge will guide us in 2011? What goals will mean the most to us in this coming year?
A sneak preview, in three glimpses:
A
workshop
where handcrafts, local artisans and travelers will mingle and make new wonders…A visit to a
Mesopotamian melting pot
, with treasures to enrich and inform our Old City endeavors with its special blend of intercultural immersion. And you are invited to
come along
with us…A new take on ancient alchemy, rejuvenating not only traditional crafts, but the women who make them,
the girls
who will carry these skills forward, evolving a culture we will nurture into a
craftivist
life of its own.
Wishing you all a fearlessly creative, abundant and inspiring 2011!
photo Rose Deniz



Autumn 2010 ~ A rich autumn harvest
Days get cooler and shorter, the Bosphorus and Sea of Marmara take on a hazy grey fog, visitors become scarcer here in Istanbul's Old City. Life begins to slow to a winter pace. It's time to take stock of this past season's accomplishments, while looking forward to a winter of preparation; time to prepare an abundant crop of new ideas in the spring of 2011. We have much to be grateful for, and we'd like to share that gratitude with you.
For an imaginative website that allow artisans to turn our handcrafted dreams into reality
For magazines that fuel our imagination by telling tales of "connecting cultures and inspiring action"
For a crossroads of hybrid identity that helps us find our global niche
For the wealth of beautiful handcrafted wonders here in Sultanahmet
For friends who not only share our passion for naturally made products, but help their communities through what they sell: colorful Turkish cottons, sturdy hemp for the hamam, and luscious potions whipped up from organic herbs and flowers
For our international community of fiber artists who support each other via amazing inspiration and common goals
For the exciting treasures we will discover away from the crowds in our neighborhood starting next spring, from local merchants and artisans
And most of all, for family, friends and customers who make our work feel like play – may you too enjoy life's rich harvest.
photo Rose Deniz