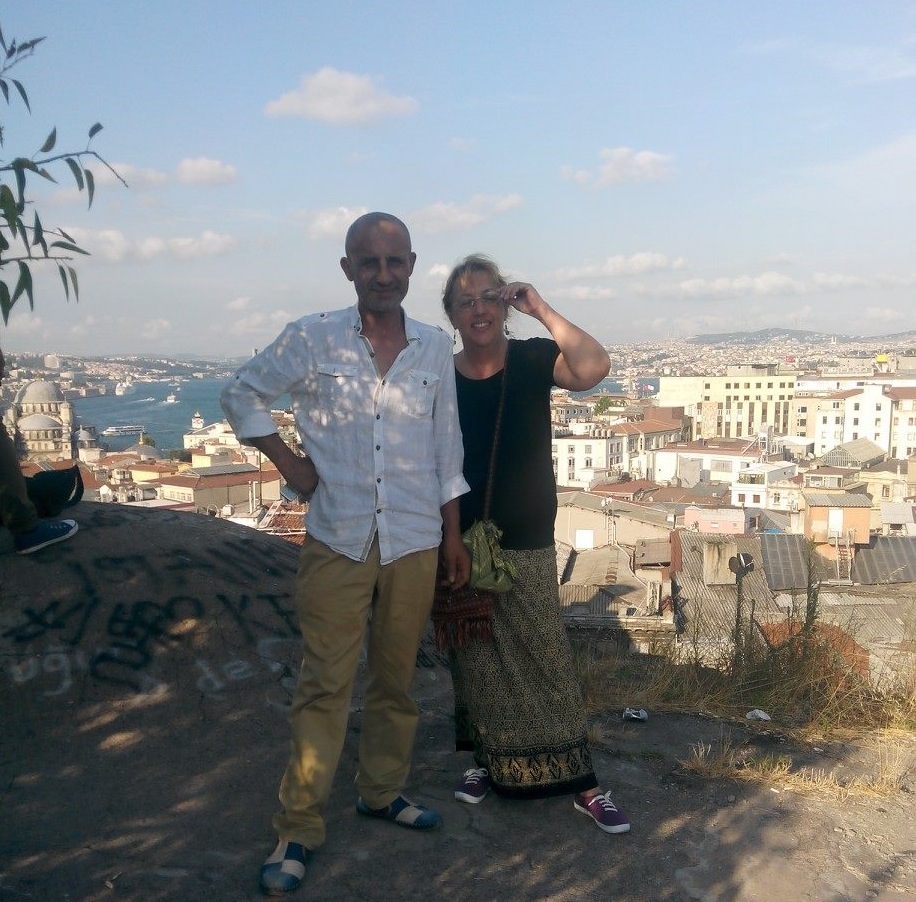 Photo: Theresa May Obrien
We've been on a rollercoaster ride here in my beloved city of Istanbul. A chaotic life has left me scattered, unable to write much, only make. But recently, an international women's group asked me to reflect on the intersections of craft and culture, globalization and activism I've experienced in my 20 years plus in Turkey. And so, I begin to write again.

The last few years have been challenging: for Americans and Turks, for Istanbul expats and locals, and globally, for women. Two decades observing the ebb and flow of Turkish tourism, the seismic swings of the political pendulum in Turkey – and in the US —have been a rollercoaster ride of the unexpected and unprecedented.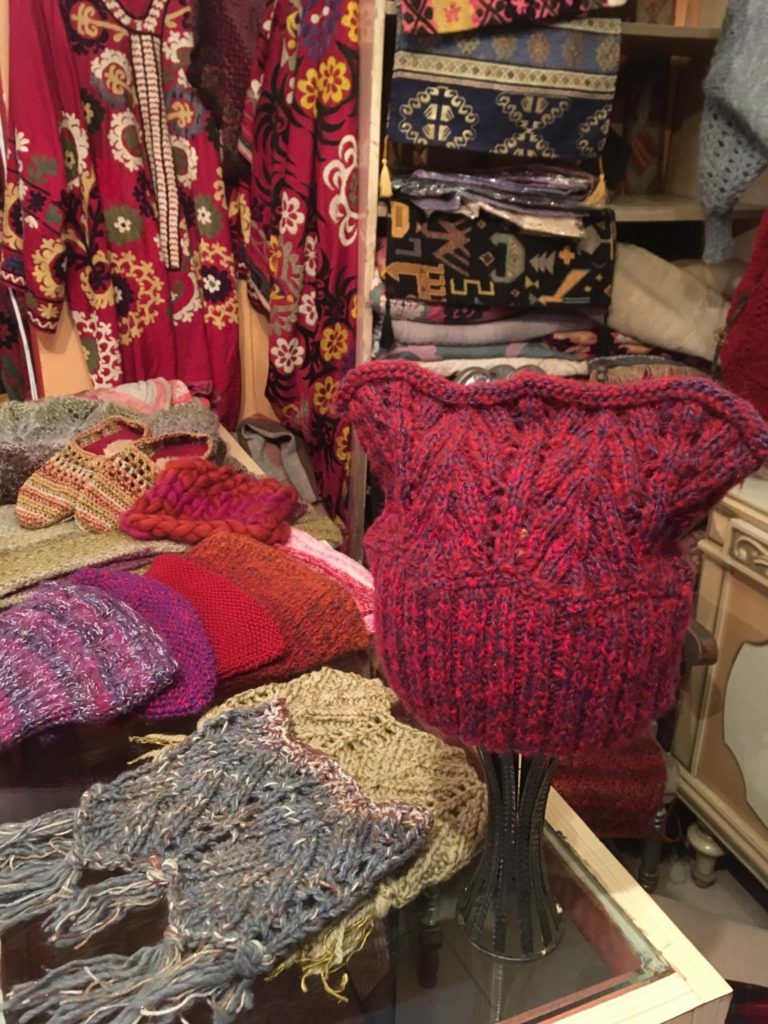 Photo: Guy Lamontagne
But as things play out on the macro stage, I also see a quiet handmade revolution unfolding. I see women knitting pussy hats in political protest, undercutting fast fashion with slow making, and challenging us-versus-them narratives with the simple act of gathering with other women to talk, laugh and create.
Against this turbulent backdrop, I feel like I've come full circle. I first visited Istanbul in the early '90s, while working as a design director for a big California-based clothing manufacturer, looking for quality cotton t-shirts at a cheap price. Fast fashion had yet to take hold of the industry, but department stores were pushing suppliers to provide merchandise at a price to compete with more direct lines of production, like the GAP.
At that time I worked in about 40 countries but unlike most, Turkey was more pleasure than drudgery, with competent professionals who also took incredible care to showcase their country to us visitors. They urged me to see more than just its most famous megacity, so after many work visits, I took a month long solo tour in 1998. I had been contemplating relocation to a country in the Mediterranean region but was most definitely not looking for a romantic relationship. Kismet had other plans of course, and placed a carpet-selling, textile-hunting man in my path. Smitten, we moved in together, with surprisingly no objection from his relatively conservative Muslim family. We married four years later and settled in Selçuk, a lovely Aegean town filled with Greco-Roman and Byzantine ruins, tourists and 30,000 inhabitants.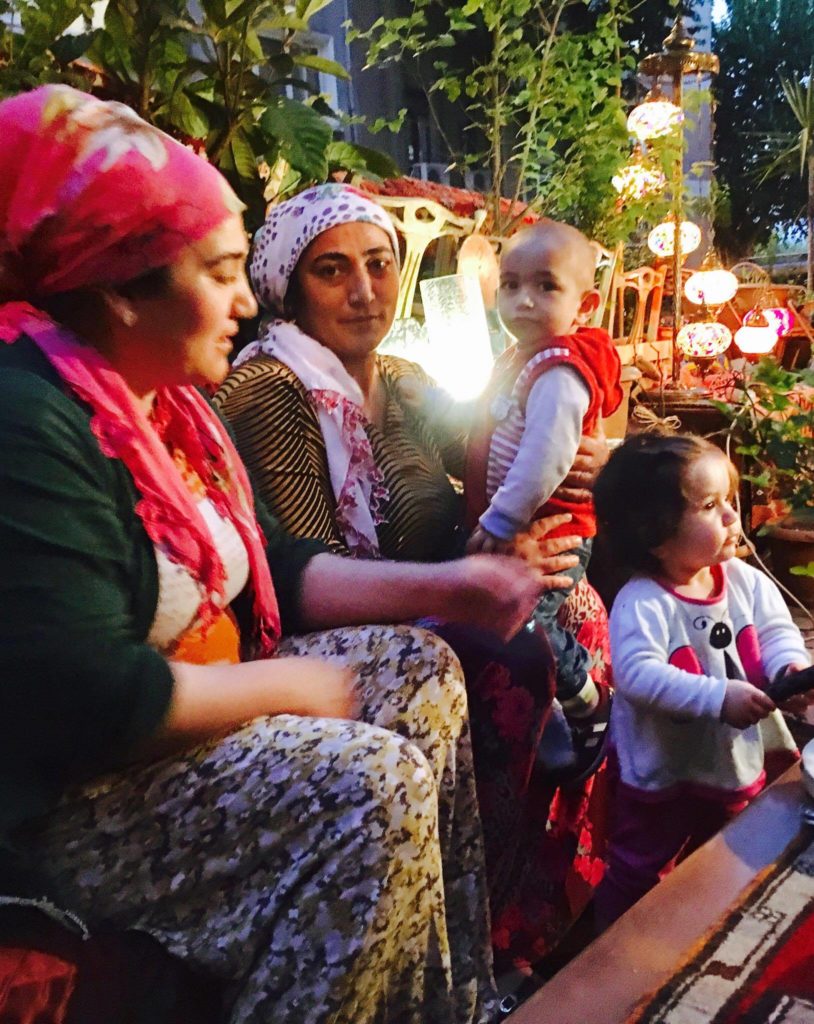 Photo: Guy Lamontagne
There were other expats around but I hadn't moved to Turkey to cling to my culturally American quirks and remain an outsider. But until I learned Turkish and Kurdish, how could I connect with my many new female, headscarf-wearing relatives, none of whom spoke English? They were all wonderful home keepers and cooks, baking their own bread, making every meal from scratch using nothing store-bought, skills I appreciated but had no time with a new business: a kilim and carpet shop in the center of town and, later, a café and wine bar called Mosaik.
Needles and yarn were things I always had time for, a favorite talent and compulsion for keeping my hands and mind busy while I grappled with fitting with family who accepted me, but had grown up in such a different culture than mine. Yet one fact struck me: every woman in our household was a knitter. Knitting was a lifeline I grabbed with gusto.
My mom and grandmother had shown me how to knit as a child, but I'm left-handed, so their English style instruction didn't stick. In my 20s, I picked up the needles again, this time in Denmark on a trip with my knitwear design mentor. His non-English-speaking mom showed me how to take the luscious handspun wool available everywhere and knit Continental style, which suited my ambidextrous tendencies perfectly.
I couldn't yet tell my new relatives much about myself, but I could show them me. How I put together colors and patterns by making a hat for a nephew, how I played with scale and texture in a dress for a niece. In turn, they showed me how they knit intricate multi-needle jacquard slippers that kept our feet so warm. We dreamed up hats, scarves and socks to sell in our vintage textile shop. At the time, cruise ship travelers rarely got beyond the high-pressure shops of the port town Kuşadası, so Selçuk got a quirky mix of academics and backpackers. But that suited me fine, trading travel stories and tales of Turkish daily life in our shop by day and café by night. If shoppers weren't interested in hand woven kilims and carpets, they'd snap up our hand knits instead.
But these women didn't just knit. They excelled in a variety of traditional Turkish crafts. They embroidered towels, crocheted bath scrubbers and oya, the decorative floral trim that adorned their headscarves, painted ceramics and wet-felted small rugs.
They no longer had time for weaving large projects like they did when my mother-in-law was a girl, when women gathered after the farming, cooking and other house chores were complete, to show their daughters how to make the items they would need for their dowry. As Turkey has modernized, the ease of buying mass-produced goods has increased.
None of my husband's six sisters needed to learn to weave. It was far more affordable and far less time consuming to buy from the big box stores cropping up all over Izmir province. People preferred machine made, synthetic fiber rugs for 'easy care' to the painstakingly woven carpets that took months to create. The only women in our town still weaving in traditional wool, silk and cotton worked for "carpet villages", commercialized stops for the bus tour groups to demonstrate traditional Turkish fiber crafts. These weavers were paid a daily rate and insurance benefits, but the weaving they did was mainly for show. But clearly the women of our town retained the timeless urge to create beautiful things by hand, if on a smaller scale than their mothers and grandmothers.
Tourism had turned weaving into a commodity that had to compete with global pricing, so the most of the goods actually sold were predominately made in cheaper labor countries farther to the east. That wasn't its only effect: As tour group visits became restricted by town halls competing for gate fees, small businesses like ours struggled, a main reason we decided to move to Sultanahmet in 2010.
Though Istanbul was a huge place, we both felt firmly at home in the maze of the bazaar district. In contrast to my '90s visits, I could see those imported mass-produced items overtaking Turkish culture, especially in the fiber trades.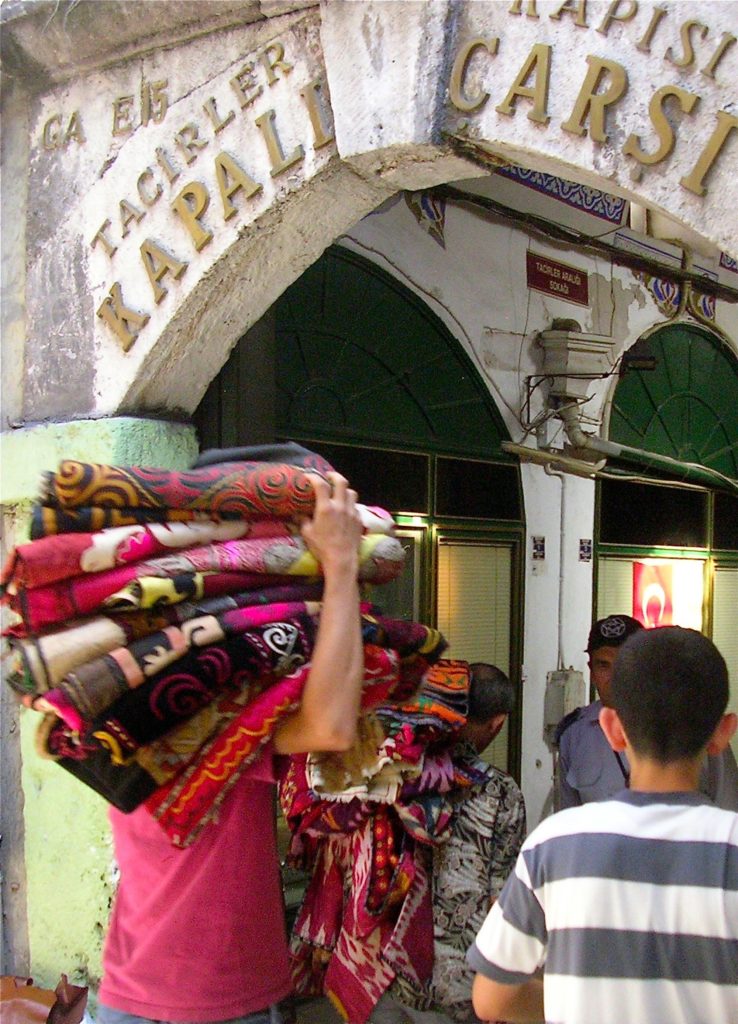 Where streets had traditionally been arranged by product sold—one lane for scarves, another for slippers—shops now displayed the same Chinese made products. When admiring a sparkling hand woven silk, a shop owner would woo me with tales of weavers in small Anatolian villages, and feign indignation when I told him I knew the saris had been woven in India. The number of textile shops and carpet wholesalers I trust to have Turkish goods, and those with authentic vintage and antique weavings and embroideries, has dwindled considerably.
In this world-class city, I missed the exchange I had with the women of our former small town, so I joined a venture to showcase Turkish products, and started new dialogues. I see craft as a tool of economic empowerment but also a subtle tool of education, particularly for travelers flocking to Istanbul in the early 2010's when Istanbul was a European Culture Capital.
Visitors were especially curious about the perceived "Islamisation" of this country. As I helped visitors navigate the narrow lanes of the bazaars, I was often the only native English speaker they met during their trip to Turkey. They showered me with questions, especially about women's roles and customs.
We've hosted knit retreats for artisan travelers who have come to see historical sites and experience another culture hands-on, through shared sessions of knitting, crochet, embroidery and wet felting. We've also traveled with groups beyond our Old City walls to Mardin, my husband's birthplace, and back to Selçuk, bringing a culturally diverse range of Turkish women and textile intrigued foreigners together so they can communicate directly themselves.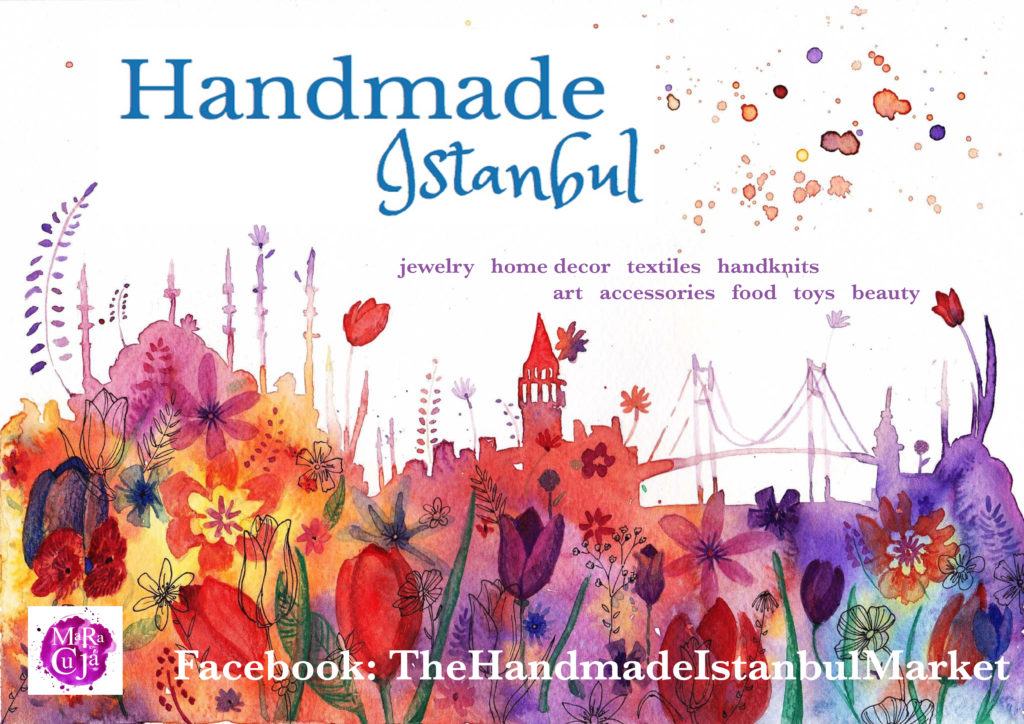 Watercolor: Maracuja Project
But I didn't want our dialogue to involve only tourists to Turkey. In 2014, as the flow of tourists began to slow as a result of protests and damaging media coverage, I started a Facebook group Handmade Istanbul, to connect with other craftivists of Istanbul, whether native born or foreigners like me. I've been dismayed at the number of traditional artisans struggling to survive—particularly women who relocated to Istanbul from rural Anatolia so their men could find work, or refugees escaping war along our border—but heartened to meet educated Istanbullular savvy enough to sell their handcrafted goods online. I wanted to offer these artisans the opportunity to earn through their crafting skills. Handmade Istanbul's seasonal markets are in part a response to this, in that they raise visibility of traditional and contemporary local artisans and provide an opportunity to sell.
In 2017, we eternal optimists recover from the rollercoaster ride of the past several years and patiently wait for tourists to return to Sultanahmet. We offer workshops in our streetside garden shop just south of the Cemberlitaş tram stop, to examine various traditional handcrafts, with the goals of reinterpreting them into modern uses, and to use craft to raise awareness of social issues. We also host Stitch 'n Bitch meetups most Sunday afternoons, with a wide variety of small handmade projects, fiber or otherwise, shared and admired.
We may not speak the same languages, but we do share a common language of craft. I'm fascinated to hear what conversations develop in our gatherings. Designing new ideas from the old to establish a financially viable cottage industry is challenging – that's the entrepreneur in me. But I'm also a writer. Of equal importance is documenting the environment in which we share our stories over busy hands and steaming cups of tea, creating a place for bridging cultures, discovering the universal characteristics that compel us to create.
The above article appears in the July/August 2017 issue of LALE magazine, for the International Women of Istanbul. An earlier version of this article was published by Hand/Eye Magazine in October 2010. With contributions from LALE Deputy Editor Ruth Terry.
Find Bazaar Bayar and Handmade Istanbul on Facebook
Save
Save
Save