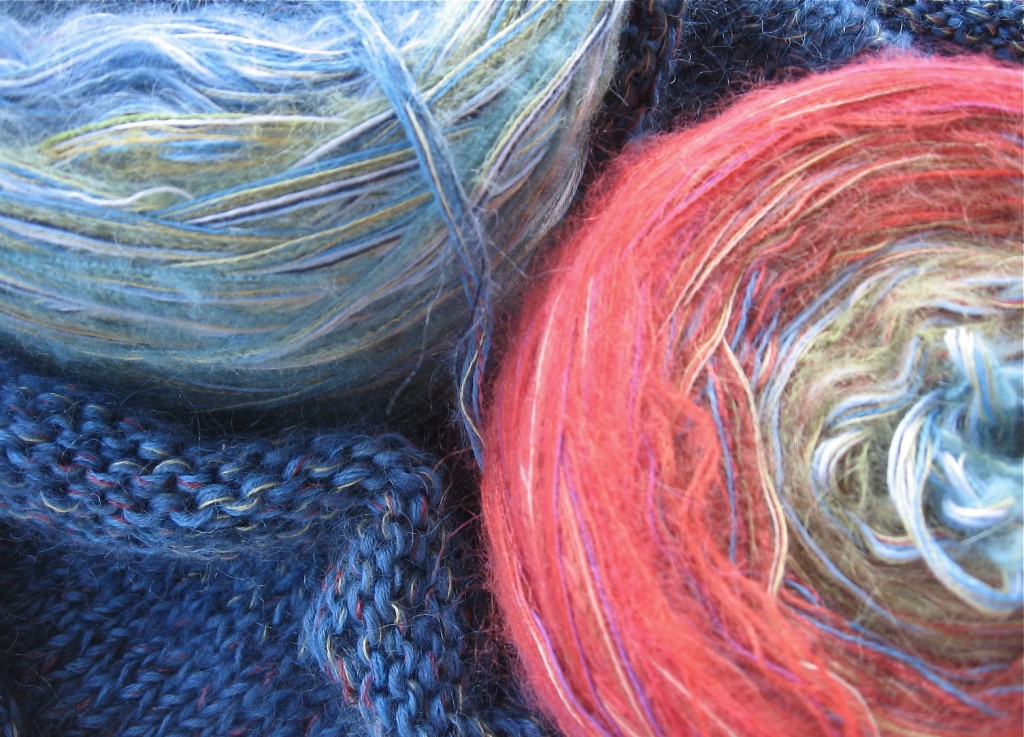 "I tell my customers – I am addicted to playing with colors, thank you for supporting my habit."
I met fellow color and fiber junkie Inese Liepina through a mutual designer friend in San Francisco, who introduced us via email on my birthday in 2010. Inese, raised in Chicago by parents who escaped Latvia in WWII, returned to her family's roots in Riga, relaunching her knitwear business Wrapture by Inese during tough economic times. Unhappy about paying high prices for Turkish kid mohair sold to Italian mills and marked up significantly for sale in the EU, she decided to come directly to the source, here in Istanbul.
I'm grateful that she did.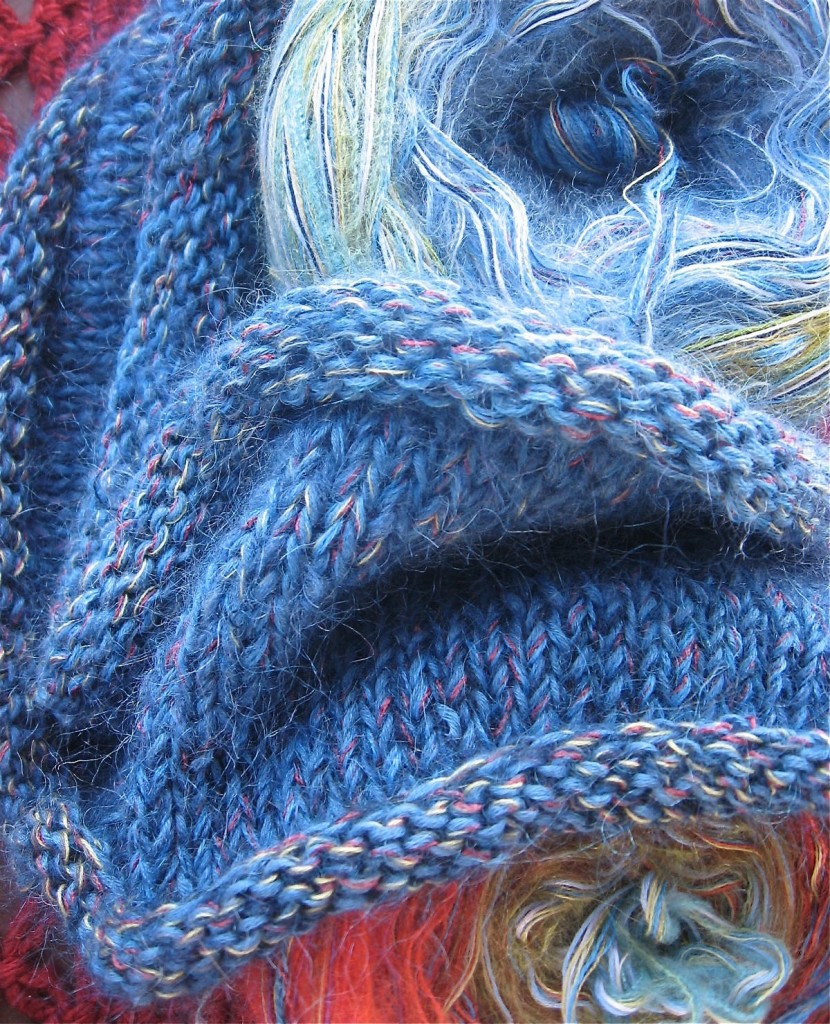 It took just one visit to our local yarn han to see that we were kindred spirits. Anyone not as enraptured with fiber and color might be puzzled at the sight of us digging through dusty bins of yarn on spools, gathering the best hues and softest feels into a huge pile, wheeling and dealing with the merchants for tens of kilos at a time. Not just one red, one yellow, one blue, one green…but every incremental shade, compiling a tactile rainbow in full blown color.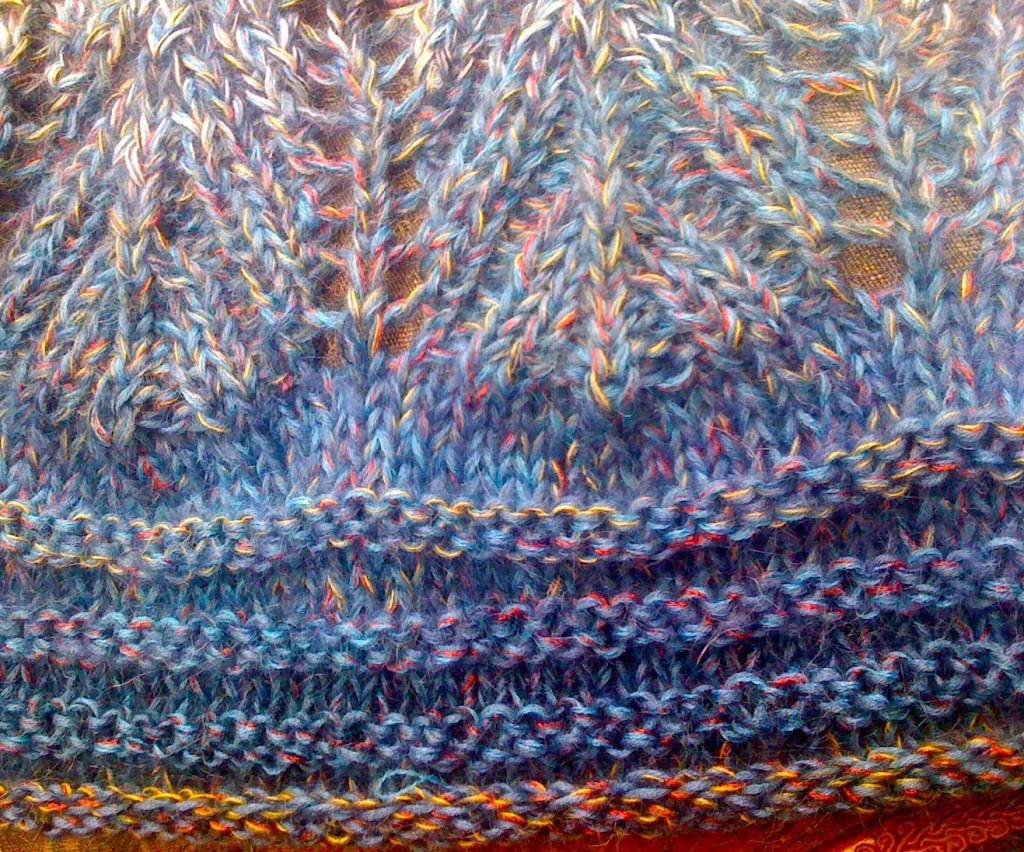 While many knitwear designers might be able to put together similar color palettes, what Inese does with these mohair, cotton, silk and linen yarns makes her absolutely unique. She blends the yarns together as she knits, 6 to maybe 20 at a time, starting in one part of the color spectrum, morphing and shifting the colors as the spirit moves her.
Her passionate play with combinations and moods, usually based on a vision from nature – sunsets, rivers, forests, suggested by her frequent jaunts into the landscapes surrounding Riga – are 'sketched' into warm wraps, blankets and sweaters, no two alike. In fact, though she's tried, even she can't copy her own work. It's that one of a kind.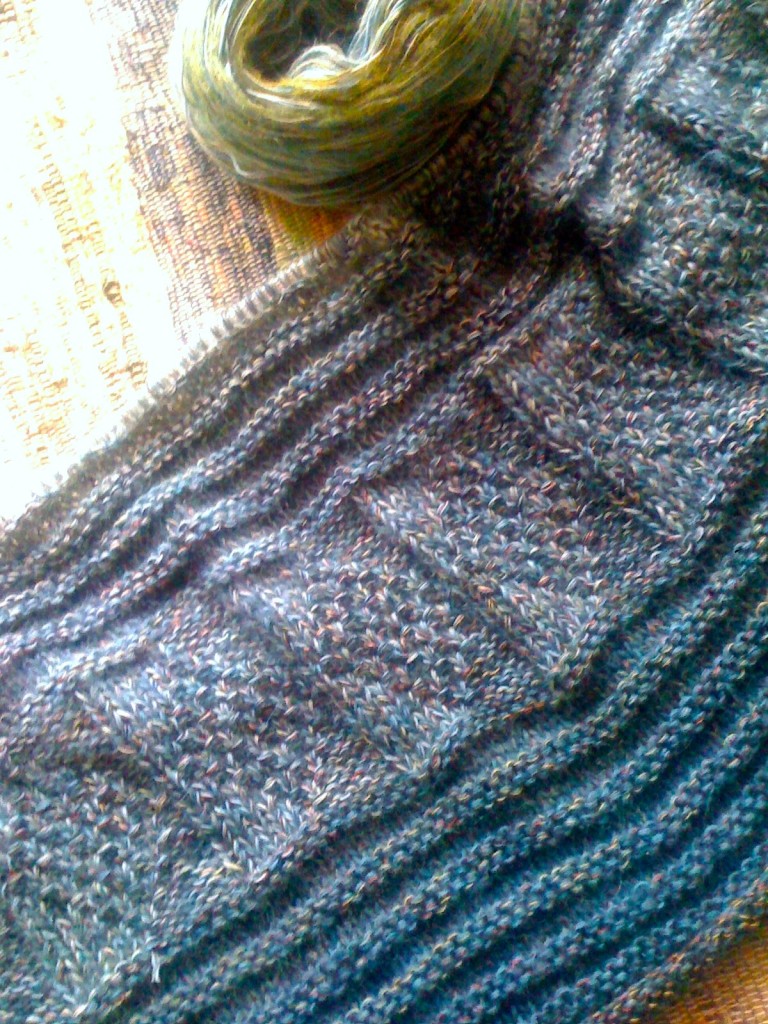 Last month Inese came to visit, bringing me a gift of a large cafe wrap she's been knitting for a slow food chef in Riga, who wanted to pamper his guests with a wrap of luxurious warmth to ward off the chill in his restaurant's garden while they enjoyed his meals. At about 500 grams of softness, these are heaven to snuggle into as winter approaches.
She also brought me two windings, enough to knit another wrap, and asked me to write a pattern for handknitting. As she explains at her Etsy shop: "Everyone who knits declares that they will copy my wraps and knit their own. Then they ask me the instructions and I say, but you can't copy my yarns or colors. Even I can't copy my colors, that's why there are no two wraps exactly alike. Oh – – – true, ummm…"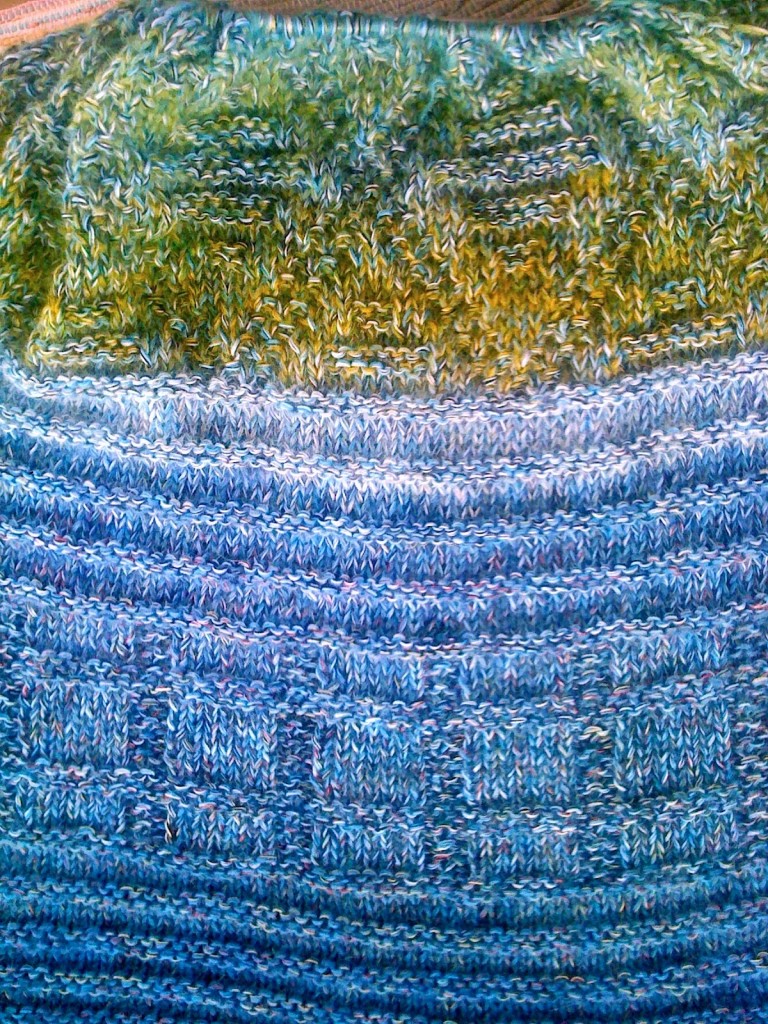 Write the pattern I did, launching a DIY category of knit kits, perfect for gifting knitters who will love the enticing way Inese's yarns lead from one color to the next, addictive in their meandering flow. Not only did I hate to put my needles down, I wanted to play with texture and pattern. These pictures chronicle my experiments with stitches, as I knit my way along Inese's rainbow.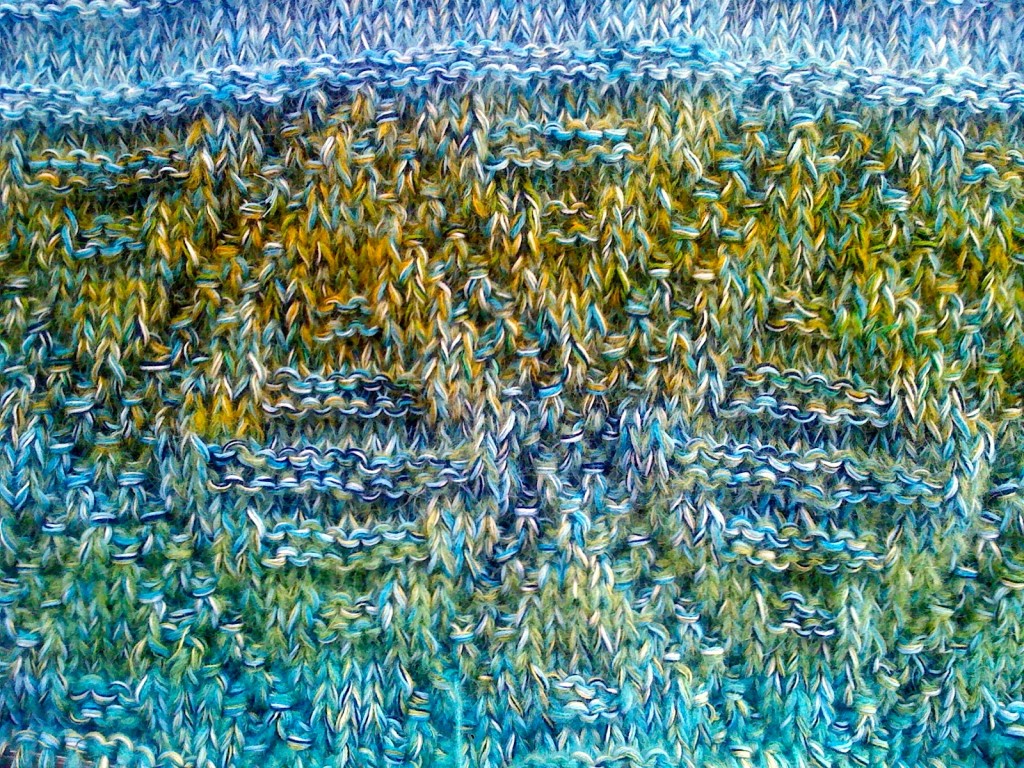 With wonderful materials to work with, there are no 'wrong' patterns, though some show color transition better than others. While Inese knits her wraps on a hand loom in stockinette or garter stitches, I added shadows and diamonds, ridges and eyelets to suit my decorative eye. Gilding the lily? Why not! The pic above reminds me of the tiles in the Topkapi Palace.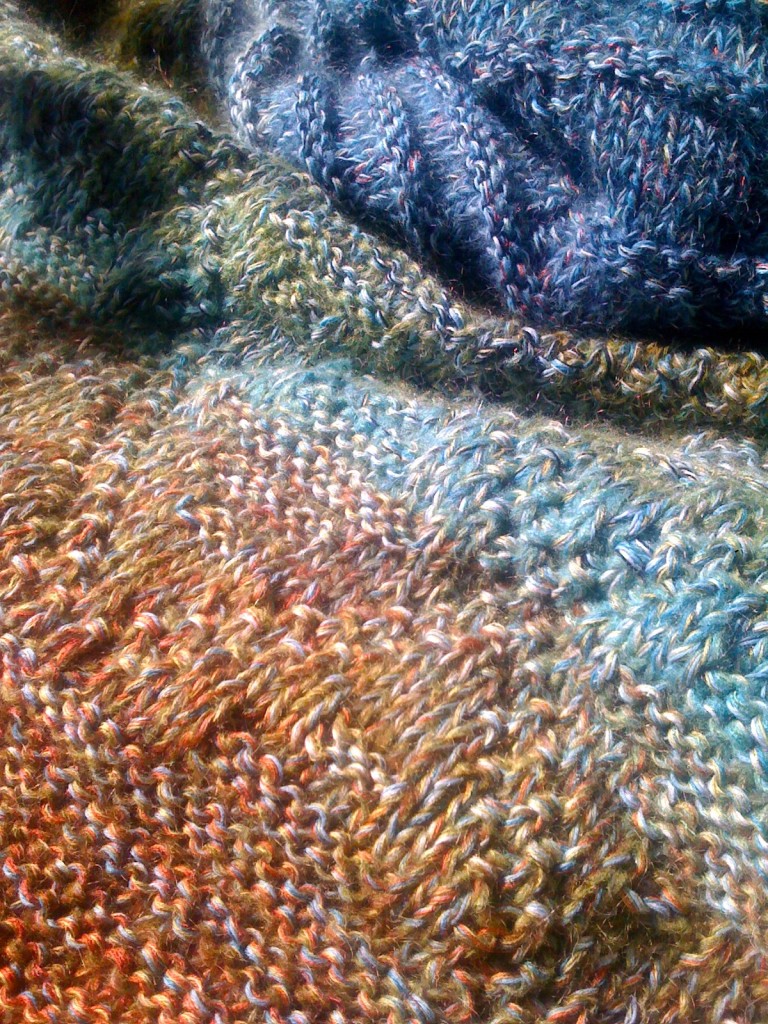 Visible softness sketched here as colors progress from a sandy beach to lapping waves, a fringe of trees against a cloudless sky at sunset.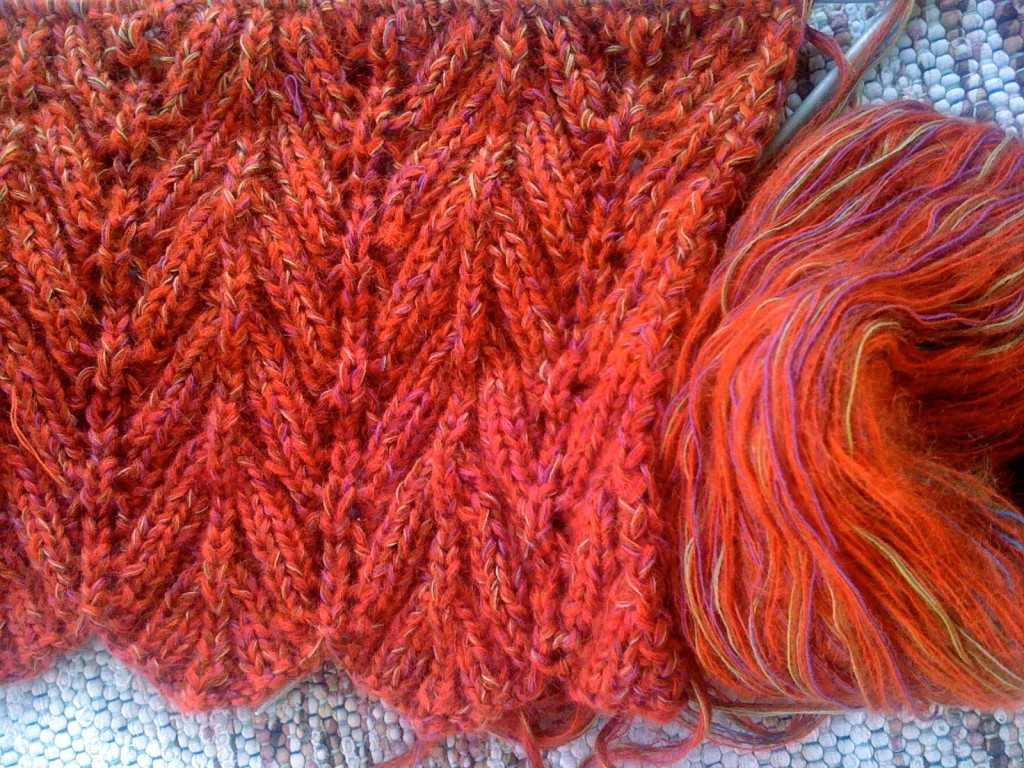 Tried and unraveled: my favorite lace pattern of the moment, a chevron rib bordered by a eyelet stripes, morphed from a wide band…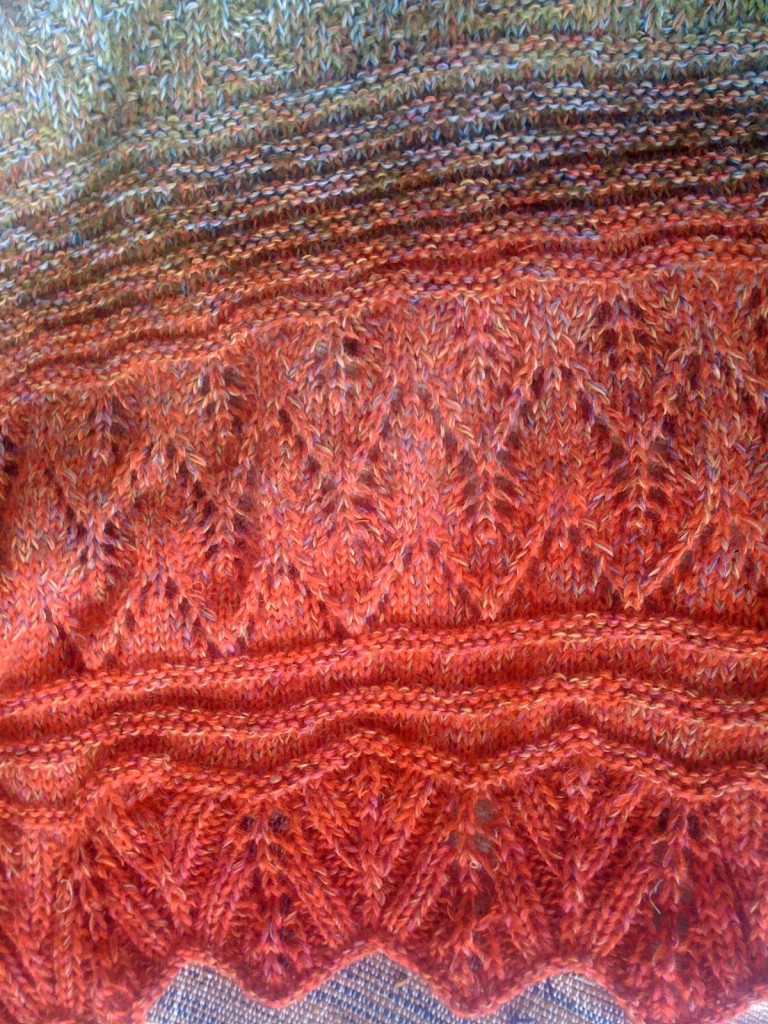 …to a narrow edge finish, with a Gothic arch zigzag and a few more purled ridges stitched in.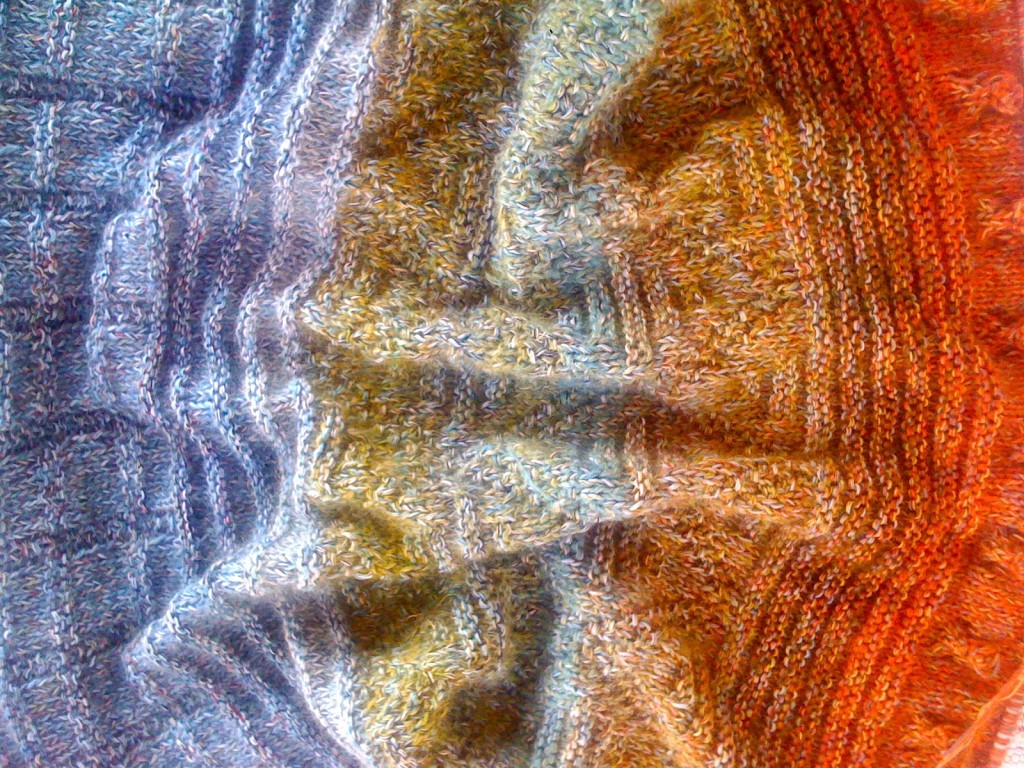 The end result – though this project of embellishing Inese's imaginative windings has just begun – was a sampler of pattern, from which we'll create a collection of kits.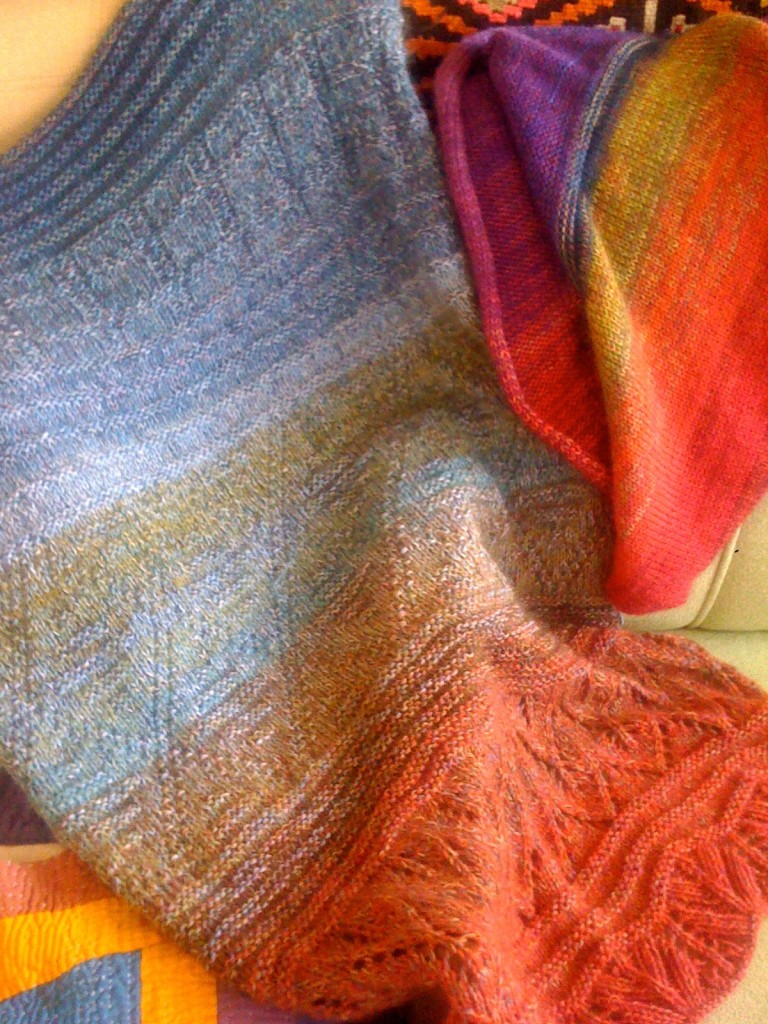 In addition to selling in our Etsy shops, we have exciting news to come about another place we'll share our collaboration in kits and workshops. More soon!
As the friend who introduced us wrote: "I just have a strong feeling you ladies will hit it off, and as super driven and talented American ex-pats could be a design powerhouse together."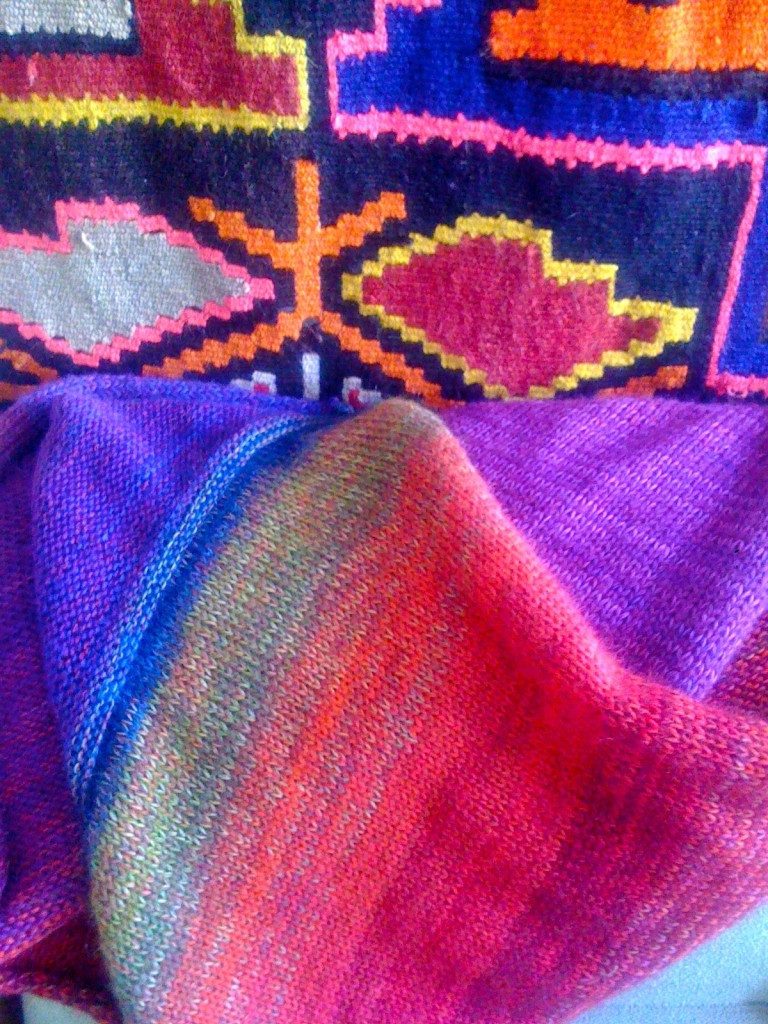 That power is in full color, the right hues mingling cultures and influences. A universal power to adorn,  connect and best of all, play.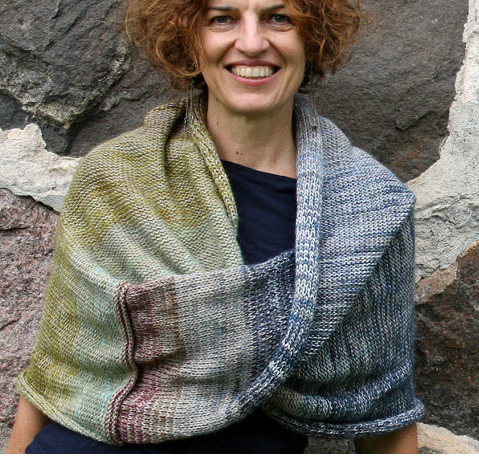 Inese photographs and models most of her work, this summer doing a charming photo shoot with a friend, her mother and her daughters. Great design spans generations. All of us need beauty, warmth, comfort and family.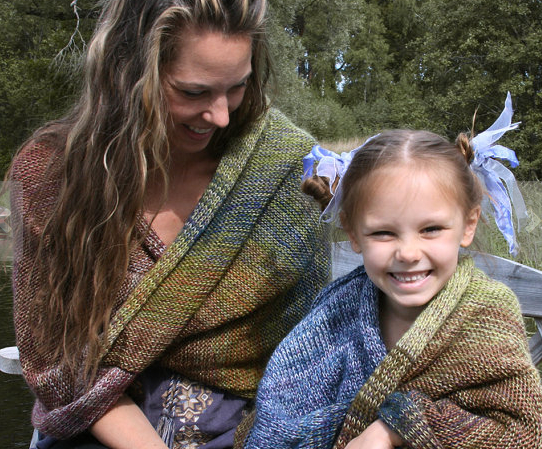 Read the stories she knits up about each piece in her shop…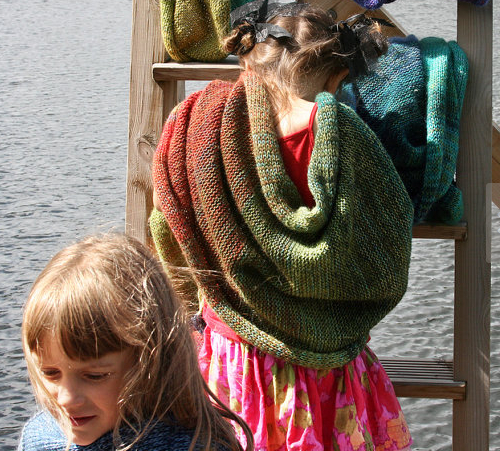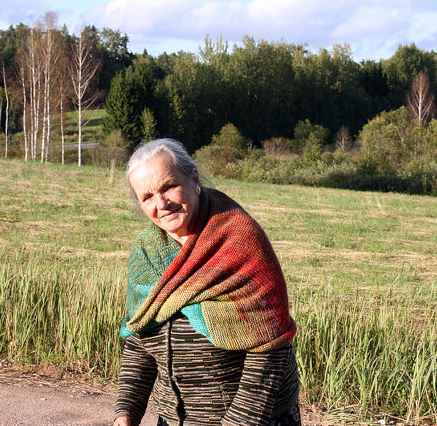 And if you're a knitter, join us in playing with color…just click on each pic!